President and Director
Fred Hutchinson Cancer Research Center
Seattle, Washington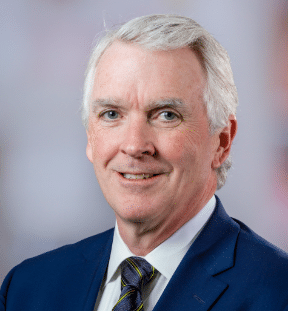 LINDA BOSSERMAN, MD, FACP, FASCO
President and Director
Fred Hutchinson Cancer Research Center
Seattle, Washington
Thomas Lynch, MD, is a board-certified medical oncologist and President and Director of the Fred Hutchinson Cancer Research Center in Seattle, Washington. A nationally recognized leader in academic medicine for more than 3 decades, Dr Lynch's cancer expertise includes solid tumor research, precision medicine, and immuno-oncology. He is the 2020 Raisbeck Endowed Chair awarded by the James D. and Sherry Raisbeck Foundation and is the recipient of the 2020 Team Science Award given by the American Association for Cancer Research (AACR).
Dr Lynch completed his residency in internal medicine at Massachusetts General Hospital and a fellowship in medical oncology at Dana-Farber Cancer Institute. He was part of the Massachusetts General Hospital research team that discovered how targeted therapies could dramatically change outcomes for patients who have lung cancer with mutations in the EGFR gene. From 2017-2019, Dr Lynch served as Executive Vice President and Chief Scientific Officer at Bristol-Myers Squibb, where he led research and development efforts in cancer, cardiovascular disease, fibrosis, and immunoscience.
He serves on the Editorial Board of Cancer Cell and is an ad hoc reviewer for the Journal of Clinical Oncology, the New England Journal of Medicine, Clinical Cancer Research, Clinical Lung Cancer, and Cancer Cell. Dr Lynch has authored or coauthored at least 161 peer-reviewed journal articles and at least 90 article and book chapters. He is a member of the American Society of Clinical Oncology, AACR, Cancer and Leukemia Group B, the International Association for the Study of Lung Cancer, and Southwest Oncology Group.