ACCREDITED CONTINUING EDUCATION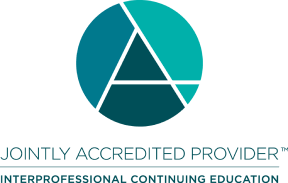 In support of improving patient care, this activity has been planned and implemented by University of Nebraska Medical Center Bio Ascend. University of Nebraska Medical Center is jointly accredited by the Accreditation Council for Continuing Medical Education (ACCME), the Accreditation Council for Pharmacy Education (ACPE), and the American Nurses Credentialing Center (ANCC), to provide continuing education for the healthcare team.
PHYSICIANS
The University of Nebraska Medical Center designates this enduring material for a maximum of 7.5 AMA PRA Category 1 Credits™. Physicians should claim only the credit commensurate with the extent of their participation in the activity.
DISCLOSURES
As a jointly accredited provider, the University of Nebraska Medical Center (UNMC) ensures accuracy, balance, objectivity, independence, and scientific rigor in its educational activities and is committed to protecting learners from promotion, marketing, and commercial bias. All faculty, planners, and others in a position to control continuing education content participating in an accredited continuing education activity are required to disclose all financial relationships with ineligible companies. Ineligible companies are organizations whose primary business is producing, marketing, selling, re-selling, or distributing healthcare products used by or on patients. The accredited provider is responsible for mitigating all relevant financial relationships in accredited continuing education. Disclosure of these commitments and/or relationships is included in these activity materials so that participants may formulate their own judgments in interpreting its content and evaluating its recommendations.
This activity may include presentations in which faculty may discuss off-label and/or investigational use of pharmaceuticals or instruments not yet FDA-approved. Participants should note that the use of products outside currently FDA-approved labeling should be considered experimental and are advised to consult current prescribing information for FDA-approved indications. All materials are included with the permission of the faculty. The opinions expressed are those of the faculty and are not to be construed as those of UNMC.
DISCLOSURES
The accredited provider has mitigated and is disclosing identified relevant financial relationships for the following faculty, planners, and others in control of content prior to assuming their roles:
Faculty
Carolina Bernabe, MD
No financial relationships to disclose
Hala Borno, MD
Co-Founder/CEO: Trial Library, Inc.
Julie Brahmer, MD, Msc
Grant/Research Support: AstraZeneca, BMS
Consultant: Amgen, AstraZeneca, BMS, Genentech/Roche, Eli Lilly, GlaxoSmithKline, Merck, Sanofi, Regeneron, Janssen, Johnson & Johnson
Data and Safety Monitoring Board/Committees: Janssen
Rob Chen, MD
Employer: AstraZeneca
Nazli Dizman, MD
Consultant: Vivreon Bioscience Inc.
Brenda Ernst, MD
No financial relationships to disclose
Narjust Florez, MD
Advisory Board Consultant: AstraZeneca, DSI, Pfizer, Janssen, Merck, Regeneron
Julie Gralow, MD, FACP, FASCO
No financial relationships to disclose
Beth Hellerstedt, MD
No financial relationships to disclose
Kathryn Hudson, MD
Ad Board: Daiichi Sankyo, Gilead
Ariela Marshall, MD
No financial relationships to disclose
Reshma Mahtani, DO
Barbara McAneny, MD
No financial relationships to disclose
Neha Mehta-Shah, MD, MSCI
Advisory Board Consultant: AstraZeneca, C4 Therapeutics
Grant/Institutional Research Funding: AstraZeneca, Bristol-Myers Squibb, C4 Therapeutics, Corvus Pharmaceuticals, Daiichi Sankyo
Sumanta Pal, MD, FASCO
Debra Patt, MD, PhD, MBA
No financial relationships to disclose
Ana Sandoval Leon, MD
Advisory Board: Merck, Sanofi, AstraZeneca, Gilead, Sermonix
Nina Shah, MD
Employment/stock ownership: AstraZeneca
Research funding: BMS, Janssen, Bluebird Bio, Sutro Biopharma, Teneobio, Poseida, Nektar, Precision Biosciences
Consultant: GSK, Amgen, Indapta Therapeutics, Sanofi, CareDx, Kite, Karyopharm, Oncopeptides, CSL Behring, Allogene, AbbVie
Rachna Shroff, MD, MS, FASCO
Research Funding: IMV Inc., LOXO, Merck, Novocure, NUCANA, Bristol-Myers Squibb, Pieris, QED Therapeutics, Seagen, Taiho, Bayer
Advisory Board Member: Incyte, Merck, QED Therapeutics, Server, Zymeworks Biopharm, Astellas, Duo, AstraZeneca, Boehringer Ingelheim Pharm, Clovis, Genentech, Natera
Other: SYROS, Hookipa Pharma, AbbVie
Margaret Tempero, MD
DSMC: Astellas Pharma Global Development Inc.
Consultant: AstraZeneca, B2ACT Therapeutics Genex, BioSapiens, Biomea Fusion Inc., ElmediX, Cend Therapeutics Inc., Debiopharm, Geistlich Pharma, Global Bio Access Fund, IPSEN Biopharma, Inc., Mirati Therapeutics Inc., Novartis Pharmaceuticals, Oncolytics, PEPTOMYC, S.L.
Advisory Board: BeiGene, Biotech Research, Boehringer Ingelheim, Merus, BMS
Scientific Advisor: Exact Sciences
SAB: Global Bio Access Fund
Eleonora Teplinsky, MD
Medical Advisor, Honoraria: Sermo
Honoraria: Achieve CE, Bonum CE, Integrity CE, TotalHealth Conference
Consulting: Eisai, AstraZeneca
Medical Advisor: FloHealth
Catherine Tinsley, PhD
Mazie Tsang, MD, MAS, MS
Stock ownership: Poseida Therapeutics, AVEO
Consultant: Novartis
Ana Velazquez Manana, MD, MSc
Julie Vose, MD, MBA
Shannon Westin, MD, MPH, FACOG
Grants to Institution: AstraZeneca, AvengeBio, Bayer, Bio-Path, Clovis Oncology, GSK, Jazz Pharmaceuticals, Mereo, Novartis, Nuvectis, Roche/Genentech, Zentalis
Consultant: AstraZeneca, Caris, Clovis Oncology, Eisai, EQRX, Gilead, GSK, Immunocore, ImmunoGen, Lilly, Merck, Mereo, Mersana, NGM Bio, Nuvectis, Roche/Genentech, SeaGen, Verastem, Vincerx, Zentalis, ZielBio
Karen Winkfield, MD, PhD
Consultant: Astellas, Merck, Bristol-Myers Squibb
Antoinette Wozniak, MD, FACP, FASCO
Planning Committee
The following planning committee members have nothing to disclose:
UNMC: Brenda Ram, CMP, CHCP
Bio Ascend: Patti Bunyasaranand, MS; Dru Dace, PhD; Kraig Steubing