Associate Professor
Department of Melanoma Medical Oncology
Division of Cancer Medicine
The University of Texas MD Anderson Cancer Center
Houston, Texas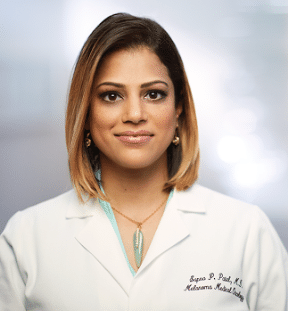 SAPNA PATEL, MD
Associate Professor
Department of Melanoma Medical Oncology
Division of Cancer Medicine
The University of Texas MD Anderson Cancer Center
Houston, Texas
Sapna Patel, MD, is a board-certified medical oncology physician, Associate Professor, Uveal Melanoma Program Director, Fellowship Program Director, and Director of Online Medicine in the Department of Melanoma Medical Oncology at The University of Texas MD Anderson Cancer Center in Houston, Texas.
Dr Patel is a member of the Hematology/Oncology Fellowship Steering Committee at The University of Texas MD Anderson Cancer. She serves on the Medical Advisory Board at A Cure in Sight and on the Editorial Board of OncoLog. Dr Patel is the recipient of a Career Development Award (Proposal 9855) given by National Cancer Institute/Cancer Therapy Evaluation Program (2016) and a Merit Award given by the American Society of Clinical Oncology (ASCO)/Conquer Cancer Foundation (2010). She is a member of ASCO, the American Association for Cancer Research, the European Society of Medical Oncology, the Ocular Oncology Group, the International Rare Cancers Initiative, and the International Society of Ocular Oncology.
Dr Patel earned her medical degree at The University of Texas Medical Branch. She then completed her internship and residency in internal medicine at The University of Colorado at Denver and Health Science Center before completing a fellowship in medical oncology at The University of Texas MD Anderson Cancer Center. She has authored or coauthored at least 68 peer-reviewed journal articles and at least 8 book chapters. Dr Patel's clinical expertise and research focuses on melanoma.