Chief, Gastrointestinal Medical Oncology
The University of Arizona Cancer Center
Tucson, Arizona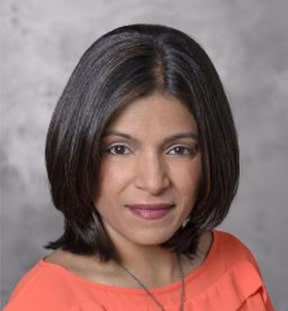 RACHNA SHROFF, MD, MS
Chief, Gastrointestinal Medical Oncology
The University of Arizona Cancer Center
Tucson, Arizona
Rachna Shroff, MD, MS, is an Associate Professor of Medicine and Chief of Gastrointestinal (GI) Medical Oncology at the University of Arizona Cancer Center (UACC) in Tucson, Arizona. Dr Shroff serves as the Director of the Clinical Trials Office, Leader of the GI Disease-Oriented Team, and Vice Chair of Clinical Research in the Department of Medicine at UACC.
Dr Shroff holds multiple positions including Medical Director of the Arizona Clinical Trials Network and serves on the Hepatobiliary Taskforce of the National Cancer Institute. She is a member of the Scientific and Medical Advisory Board for the Cholangiocarcinoma Foundation and member of the GI Program Committee for the American Society of Clinical Oncology (ASCO). Dr Shroff serves as Co-Chair of the Adjuvant Therapy in Biliary Cancers and Systemic Therapy in Hepatocellular Carcinoma Guidelines Expert Panels at ASCO.
She is the recipient of multiple awards including recently the Rising Star Award given by The Indo-American Cancer Association (2017) and the Sidney Kimmel Medical College Alumni Association's Early Career Alumni Award given by Thomas Jefferson University (2020).
Dr Shroff is a member of the American Association for Cancer Research, ASCO, the International Cholangiocarcinoma Research Network, and Southwest Oncology Group. She has authored or coauthored at least 43 peer-reviewed journal articles. Dr Shroff serves on the Editorial Review Board of Chemothrerapy and Liver Research and is an editorial reviewer for at least 6 peer-reviewed journals. Her clinical research focus includes pancreatic and biliary cancers and GI malignancies.