President
Deana and Steve Campbell Physician-in-Chief Distinguished Chair
City of Hope National Medical Center
Duarte, California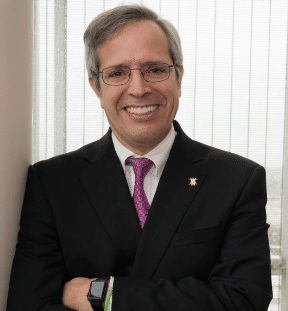 MICHAEL CALIGIURI, MD
President
Deana and Steve Campbell Physician-in-Chief Distinguished Chair
City of Hope National Medical Center
Duarte, California
Michael Caligiuri, MD, is President of the City of Hope National Medical Center and the Deana and Steve Campbell Physician-in-Chief Distinguished Chair at City of Hope National Medical Center in Duarte, California. A leading researcher in immunology, lymphoma, and leukemia, Dr Caligiuri dedicates himself to developing the next generation of cancer therapies, rapidly delivering them to patients and curing their disease. He is a member of the Hematologic Malignancies Translational Science and Hematology & Hematopoietic Cell Transplantation research teams at City of Hope.
Dr Caligiuri was elected to the National Academy of Medicine's Class of 2018 for his breakthrough discoveries in natural killer cell leukemia and cutaneous T-cell lymphoma. He is the past president of the American Association for Cancer Research (AACR). In addition to serving as president of the AACR, Dr Caligiuri was recently named a fellow of that organization. Before joining City of Hope, he worked for 20 years as a physician, scientist, and leader in the cancer program at The Ohio State University. During his tenure there, he served as Chief Executive Officer of The James Cancer Hospital and Solove Research Institute and directed The Ohio State University Comprehensive Cancer Center for 14 years, recruiting more than 300 cancer physicians and scientists.
Dr Caligiuri is the recipient of multiple awards including recently the Janeway Medal given by the American Radium Society (2019) and the J. E. Wallace Sterling Lifetime Achievement Award in Medicine given by Stanford University (2018). He has cofounded several companies including CancerBridge, Pelotonia, CytoImmune Therapeutics, and Oncology Research Information Exchange.
Dr Caligiuri has authored or coauthored at least 390 peer-reviewed journal articles. He earned his medical degree from Stanford University School of Medicine, completed his internship and residency in internal medicine at Brigham and Women's Hospital/Harvard Medical School, and a fellowship in medical oncology at Dana-Farber Cancer Institute.