ELIZABETH PLIMACK, MD, MS
Chief, Division of Genitourinary Medical Oncology
Fox Chase Cancer Center
Philadelphia, Pennsylvania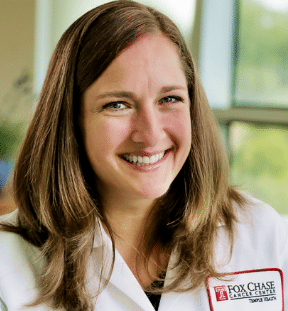 ELIZABETH PLIMACK, MD, MS
Chief, Division of Genitourinary Medical Oncology
Fox Chase Cancer Center
Philadelphia, Pennsylvania
Elizabeth Plimack, MD, MS, is a board-certified medical oncology physician, Professor of Medical Oncology, Chief of the Division of Genitourinary Medical Oncology, and Director of Genitourinary Clinical Research at Fox Chase Cancer Center in Philadelphia, Pennsylvania.
Dr Plimack serves in multiple leadership roles including serving on the Board of Directors at the American Society of Clinical Oncology (ASCO) and the Society of Urologic Oncology (SUO) Clinical Trials Consortium and on the Scientific Advisory Boards at Bladder Cancer Advocacy Network and The Johns Hopkins Greenberg Bladder Cancer Institute. She is a member of Temple Health LEAD 365's Physician Leadership Academy, the Bladder Cancer Task Force at the National Cancer Institute (NCI), the Management Committee at Bladder Cancer Research Network, the Kidney Cancer and Bladder/Penile Cancer Guidelines Panels and the 2021 Young Investigator Award Committee at the National Comprehensive Cancer Network
Dr Plimack is the recipient of numerous awards including the Distinguished Alumnus Award in Genitourinary Medical Oncology given by The University of Texas MD Anderson Cancer Center (2016) and the Cancer Clinical Investigator Team Leadership Award given by NCI (2015). She serves on the Editorial Boards of Cancer and Journal of Clinical Oncology and is an ad hoc reviewer for at least 23 peer-reviewed journals. Dr Plimack has authored or coauthored at least 163 peer-reviewed journal articles and at least 1 book chapter. She is a member of ASCO, SUO, and the American Association of Cancer Research. Dr Plimack's clinical research focus includes kidney, bladder, prostate, and testicular cancers, with research efforts focused on the development of new therapies for bladder and kidney cancer.