Professor
Johns Hopkins Medicine
Baltimore, Maryland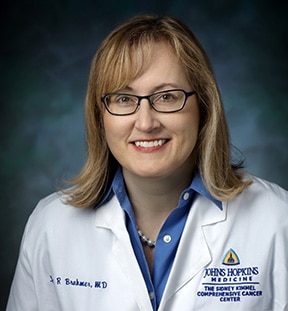 JULIE BRAHMER, MD, MSC

Professor
Johns Hopkins Medicine
Baltimore, Maryland
Julie Brahmer, MD, MSc, is the Director of the Thoracic Oncology Program and Professor of Oncology at the Sidney Kimmel Comprehensive Cancer Center at Johns Hopkins. She was recently appointed as Co-Leader of the Cancer Immunology Program. In addition to serving as Co-Leader of the Cancer Immunology Program, she also directs the Kimmel Cancer Center on the Johns Hopkins Bayview campus. She is co-principal investigator of the Johns Hopkins' National Clinical Trials Network and helps direct all oncology cooperative group activities on the Johns Hopkins campuses. Dr. Brahmer is an international leader in lung cancer clinical trials research with particular expertise in drug development for thoracic malignancies and immunotherapy.
Dr. Brahmer received her undergraduate degree in Chemistry and Philosophy in 1989 from the Creighton University in Omaha, Nebraska and went on to receive her medical degree from the University of Nebraska Medical Center, College of Medicine in 1993. Completing her internship and residency in Internal Medicine at the University of Utah, she later became the Chief Medical Resident until moving to Baltimore to complete her fellowship in Medical Oncology at the Kimmel Cancer Center at Johns Hopkins.
Dr. Brahmer's research interests include leading early phase immunotherapy trials of anti-PD-1 antibodies, international phase III studies of immunotherapies in lung cancer and investigator-initiated trials evaluating epigenetic therapies in combination with immunotherapies. She is a member of the Johns Hopkins Kimmel Cancer Center immunotherapy related toxicity management team and co-leads ASCO, NCCN, and SITC toxicity guideline development for these national and international organizations.