This activity is intended for community and academic medical oncologists, hematologists, advanced practitioners (NP/PA/PharmD), and other clinicians who treat patients with hematologic and oncologic malignancies.
After participating in the activity, participants should be better able to:
Strive for, and support other women in leadership positions in oncology

Foster team-based collaboration among women hematologists/oncologists, nurses, and other healthcare professionals

Acquire insights that help further personal and professional growth

Evaluate evidence regarding the impact of gender imbalance on patient care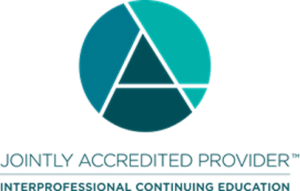 In support of improving patient care, this activity has been planned and implemented by University of Nebraska Medical Center and Bio Ascend. University of Nebraska Medical Center is jointly accredited by the Accreditation Council for Continuing Medical Education (ACCME), the Accreditation Council for Pharmacy Education (ACPE), and the American Nurses Credentialing Center (ANCC), to provide continuing education for the healthcare team.
The University of Nebraska Medical Center designates this live activity for a maximum of 3.75 AMA PRA Category 1 Credits™. Physicians should claim only the credit commensurate with the extent of their participation in the activity.
Time

Event

Welcome Remarks and Conference Introduction

Professional Vignettes and Panel Discussion

Oral Abstract/Poster Presentation: Mind the Gap:
Women Across Academic Oncology in 2021

Leadership Skills: How to Lead in a Man's World

The Male Perspective on Closing the Gender Gap in Oncology Leadership Roles

Oral Abstract/Poster Presentation:
Impact of COVID-19 Pandemic on Well-being and Work-related Burnout Among
Healthcare Workers at an Academic Center

Moving Forward: Resiliency and Overcoming Challenges

Wealth Wisdom: Seven Steps to Take Control of Your Financial Health

Award Presentations: Woman Oncologist of the Year and Rising Star

Closing Remarks and Adjourn

Optional Networking Groups
Julie Brahmer, MD, MSc
Co-Director, Upper Aerodigestive Department
Professor of Oncology
Johns Hopkins Medicine
Baltimore, Maryland
Nina Shah, MD
Associate Professor
University of California San Francisco
San Francisco, California
Julie Vose, MD, MBA
Chief, Hematology/Oncology
Professor
University of Nebraska Medical Center
Omaha, Nebraska
As a jointly accredited provider, the University of Nebraska Medical Center (UNMC) ensures accuracy, balance, objectivity, independence, and scientific rigor in its educational activities and is committed to protecting learners from promotion, marketing, and commercial bias. Faculty (authors, presenters, speakers) are encouraged to provide a balanced view of therapeutic options by utilizing either generic names or other options available when utilizing trade names to ensure impartiality.
All faculty, planners, and others in a position to control continuing education content participating in a UNMC accredited activity are required to disclose all financial relationships with ineligible companies. As defined by the Standards for Integrity and Independence in Accredited Continuing Education, ineligible companies are organizations whose primary business is producing, marketing, selling, re-selling, or distributing healthcare products used by or on patients. The accredited provider is responsible for mitigating relevant financial relationships in accredited continuing education. Disclosure of these commitments and/or relationships is included in these activity materials so that participants may formulate their own judgments in interpreting its content and evaluating its recommendations.
This activity may include presentations in which faculty may discuss off-label and/or investigational use of pharmaceuticals or instruments not yet FDA-approved. Participants should note that the use of products outside currently FDA-approved labeling should be considered experimental and are advised to consult current prescribing information for FDA-approved indications.
All materials are included with the permission of the faculty. The opinions expressed are those of the faculty and are not to be construed as those of UNMC or Bio Ascend.
The accredited provider has mitigated and is disclosing identified relevant financial relationships for the following faculty, planners, and others in control of content prior to assuming their roles:  
Monica Bertagnolli, MD, FACS, FASCO
Board of Directors:
American Cancer Society, Prevent Cancer Foundation, Leap Therapeutics, Natera, Inc., Oncoclinicas do Brasil Servicos Medicos
Research Funding to Alliance for Clinical Trials in Oncology Foundation:
AbbVie, Agenus, Astellas, AstraZeneca, Baxalta, Bayer HealthCare, Breast Cancer Research Foundation, Bristol-Myers Squibb, Celgene, Complion, Czarnowski, Derse, Inc., Eisai, Exelixis, Flame Biosciences, Genentech, GHI, Gilead Sciences, GSK Total, Incyte Corporation, Janssen, Jazz Pharma, Leap Therapeutics, Leidos, Lexicon Pharma, Lilly, Maltrex, Merck, Millennium, MITRE Corporation, Novartis, Pfizer, Pharmacyclics, Robert Wood Johnson FDN, Roche/Genentech, Sagerock Advisors, Sanofi, STO, Taiho Oncology, Takeda, Tesaro, Teva
Julie Brahmer, MD, MSc
Advisory Board:
Amgen, AstraZeneca, Bristol-Myers Squibb, Eisai, Eli Lilly, Genentech/Roche, Merck, Regeneron, Turning Point
Advisory Board/DSMB:
GlaxoSmithKline, Sanofi
Grant Funding to Institution: 
AstraZeneca, Bristol-Myers Squibb, Genentech
Michael Caligiuri, MD
Co-founder: 
CytoImmune Therapeutics, Precision Technologies
Consultant:
CBMG
Scientific Advisory Board:
Cytovia, Imugene, OncoC4
Narjust Duma, MD
Advisory Board: 
AstraZeneca, BI, BMS, Janssen, Pfizer
Elizabeth Jaffee, MD, FAACR, FACP
Consultant:
Achilles, Adaptive Biotech, Break Through Cancer Foundation, Candel, CSTONE, DragonFly, Genocea, NextCure, Parker Institute, Stimit
Grants:
AstraZeneca, Bristol-Myers Squibb, Genentech
Founder:
Abmeta
Bridget Keenan, MD, PhD
Research Funding:
Partner Therapeutics
Thomas Lynch, MD
Consultant and Stock Holder: 
Bristol-Myers Squibb
Board Member:
Hummingbird Bioscience, Kleo Pharmaceuticals
Elizabeth Plimack, MD, MS
Grants for Clinical Trial Conduct:
Astellas, Bristol-Myers Squibb, Genentech, Merck
Scientific Advisory:
AstraZeneca, Aveo, Bristol-Myers Squibb, Calithera, Genentech, Infinity Pharma, Janssen, MEI, Merck, Pfizer, Seattle Genetics
Nina Shah, MD
Consulting Fees:
Amgen, CareDx, GlaxoSmithKline, Indapta Therapeutics, Karyopharm, Kite, Oncopeptides, Sanofi
Research Funding:
Bluebird Bio, Celgene/BMS, Janssen, Nektar, Poseida, Sutro Biopharma, Teneobio
Rachna Shroff, MD, MS
Advisory Board Member:
AstraZeneca, BI, Clovis, Genentech, Incyte Corporation, Merck, QED Therapeutics, Servier, Taiho Oncology, Zymeworks
Julie Vose, MD, MBA
Consultant: 
MorphoSys
Advisory Board: 
AbbVie, AstraZeneca, Pharmacyclics
Karen Winkfield, MD, PhD
Consultant:
Bristol-Myers Squibb, Merck, Pfizer
The following faculty members have nothing to disclose:
Clifford Hudis, MD, FACP, FASCO
Jarushka Naidoo, MBBCH, MD
Julie Silver, MD
Carrie Thompson, MD, MS
The following planning committee members have nothing to disclose:​
UNMC: Brenda Ram, CMP, CHCP​
Bio Ascend: Patti Bunyasaranand, MS; Lucja Grajkowska, PhD; Aimee Harwood
Support
This activity is supported by an independent educational grant from Pfizer, Inc.